Loot the Plutes
Loot the Plutes is the first full TTRPG published using the Four Points RPG System.

Overview
In this game, you'll play as a gang of swashbuckling rogues in the hyper-capitalist plutocratic city of Gilderburg. The city is ruled over by the Circle, a group of six obscenely wealthy noble families.
Listen out for rumours, gather information, plan and attempt heists, evade the law and even use enchantments to literally steal from the rich and give to the poor.
Using Four Points, quickly make a character by choosing your Folk and area of roguish expertise, then you're ready to start looting!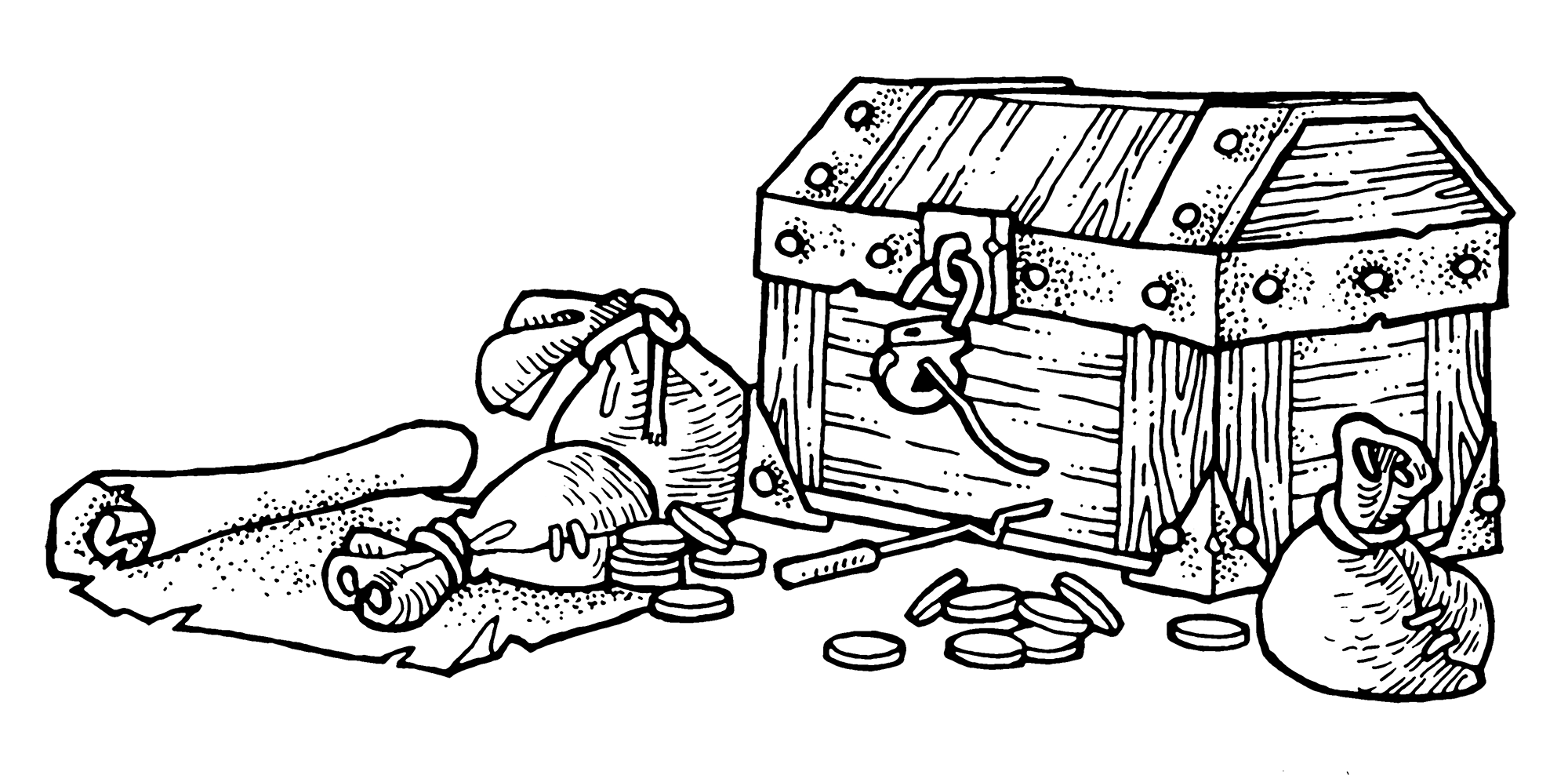 A small portion of the Circle's horded wealth.
The Folk of Gilderburg
There are six playable Folk to choose from in Loot the Plutes. These are the Brell ( Catfolk), K'nach (Ratfolk), Leshvar (Lizardfolk), and the humanoid Hillfolk, Mountainfolk and Valleyfolk. Each Folk comes with a set of Traits and Abilities which have both narrative and mechanical applications.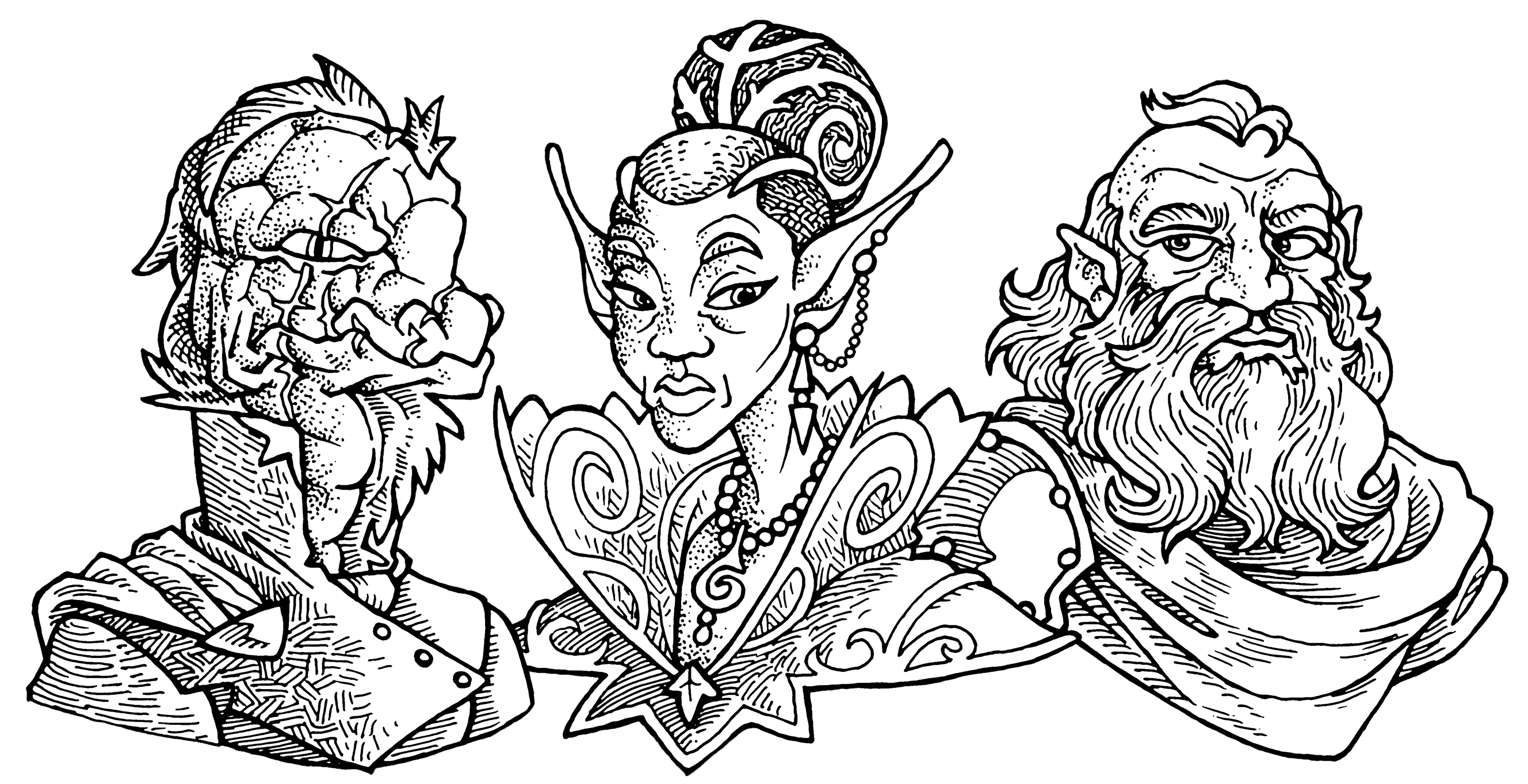 Three nobles, each the head of one of the noble families of Gilderburg.
Game includes:
- Setting lore and description
- Map of Gilderburg
- Six playable Folk
- Rules and Character creation mechanics
- Pre-Adventure discussion prompts and advice for safe play
- Guide (GM) section, including tips and roll tables
- Form-fillable character sheet

Files Overview
Loot the Plutes fully illustrated PDF. All illustrations are traditionally hand-drawn, in black and white.
The Loot the Plutes (Text Only) PDF, Rules Reference (Text Only) PDF, and Character Sheet (Word Document), are all formatted and tagged for screen-readers.
The Four Points RPG System
Four Points is an RPG System that focuses on Characters, Narrative, Player Agency and Customisation. This game includes all the necessary rules for playing it, and the unabridged Four Points SRD is now available on my itchio store!
Community Copies
I've made a number of Community Copies available. For every copy of Loot the Plutes that is purchased, another Community Copy will be added.
Disclaimer
Please note that the setting for Loot the Plutes is a capitalist hell-scape, but unlike our own real world version, it does not include any discrimination based on colour, appearance, disability, faith (or lack thereof), sex or gender. This game does not in any way encourage or attempt to legitimise bringing bigotry and hatred to the table.
The game includes a section covering safe play, with a link to a curated collection of various safety tools.
I have done my best to set everything up correctly, also with regards to accessibility. If there are any issues with the documents, please let me know in the comments.
Thanks and have fun!
I have made a playlist of music inspired by Loot the Plutes: https://open.spotify.com/playlist/3MUs6bGHtb1Od779RrVplc?si=fgzE5-PdS12O4edaa-R08A
Purchase
In order to download this TTRPG you must purchase it at or above the minimum price of $5 USD. You will get access to the following files:
Loot the Plutes.pdf
60 MB
Loot the Plutes (Text Only).pdf
344 kB
Rules Reference (Text only).pdf
107 kB
Character Sheet (Word Document).docx
42 kB
Community Copies
Support this TTRPG at or above a special price point to receive something exclusive.
Community Copy of Loot the Plutes
A free copy of Loot the Plutes!
For every copy of Loot the Plutes that is purchased, another Community Copy will be added.
Comments
Log in with itch.io to leave a comment.
Added your delightful game to Goodreads, and wrote a review for it!
In Loot the Plutes, Gilderburg is a fantasy/steampunk city where the rich and powerful exploit the workers. Choosing from a number of fantasy races, you play as swashbuckling rogues going on heists to redistribute wealth in the city.