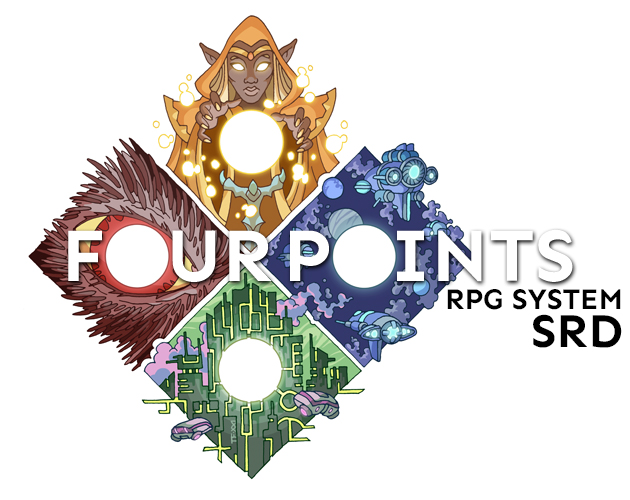 Four Points RPG System SRD
A downloadable TTRPG System
What is Four Points?
Four Points is a setting neutral table-top RPG system, which focuses on player agency, narrative, characters and customisation. Do you like character-centered games, with not too much rules crunch? Are you looking for a game where dice rolls are rare but powerful? Then this is a system for you!

Core Mechanic
At the heart of any Four Points game is the following mechanic.
Whenever a Character wishes to perform an Action - something that would have important consequences - the Player has two options:

- Spend a number of Energy Points in exchange for varied degrees of success.
- Roll 1d6, for a 50/50 chance of success.


What does this SRD contain?
This SRD functions as a toolkit.
Aside from the core mechanic on performing Actions, you can use or adapt as much or as little of the rules as you need.
The document contains a Game-Building Section that provides examples and tips on how to go about creating and running your Four Points game.
It contains an extensive list of optional Traits and Abilities for you to choose from or adapt, when building your setting's playable Folk.
Four Points also features two modes of character creation, for players who want their character's backstory to inform their stats and skills, and for players who prefer an accelerated approach. Pick from a varied list of past Experiences, or roll a big pile of six sided dice!
The SRD also includes a section on playing safely and respectfully, with a link to a curated collection of Safety Tools.


Files Overview
Files Overview
- Four Points SRD: an illustrated version of the SRD, with cover illustration and six full page colour pictures.
- Four Points SRD (Text Only): a printer-friendly, text only version of the SRD.
- Four Points RPG Core: a succinct resource for designing your first Four Points RPG.
- 'Based on the Four Points RPG System' Logo (transparent PNG).
All files are formatted and tagged for screen-readers (ALT text included).


Games based on the Four Points RPG System
- Loot the Plutes
- Guarden
- Outward Bound
- Goblins & Grimoires
- ROAM by Adelina Rose Gowans
- The Creature's Features
- Come Rain Come Shine
- QuestFellows
- Cosmic Connections
- Stravagante!
- Penguin Tale by Hugh Lashbrooke
I hope you enjoy playing and running games using Four Points!
Please let me know if there are any issues with the documents' formatting or tagging. Thanks!

UPDATE (21/11/2022)
I have added revised versions of the Illustrated and Text Only SRDs.
Revisions include some layout adjustments and clearer organisation for the core and optional mechanics. I have also simplified the wordage in the licensing section and removed the requirements for use of the Four Points logo.

I have also added Four Points RPG Core, a streamlined reference document containing just the core mechanics, which should hopefully prove useful for people wanting to design their first Four Points RPG!
Download
Click download now to get access to the following files:
Four Points SRD (REVISED)
5 MB
Four Points SRD (Text Only) REVISED
650 kB
Four Points RPG Core
182 kB
Four Points SRD (ORIGINAL)
3 MB
Four Points SRD (Text Only) (ORIGINAL)
367 kB
Based on FP Logo.png
31 MB